Enable Your Business To Its Maximum Potential With Cloud Innovation
Ajels' Agile Software development services help you address evolving business and technology challenges by defining, designing and building applications tailored to meet your business requirements.
The traditional IT landscape restricts an enterprise's ability to respond to dynamic market conditions and drive business growth effectively. At Ajel, we help our clients stay ahead of the competition with a comprehensive suite of new-age enterprise app development services and solutions.
IT CONSULTING
We align business and systems technology to address your business challenges and create sustainable, competitive advantages for you. Through strategic and optimized application of technology and utilizing our global delivery model, we accelerate higher levels of productivity and quality for our clients.
CLOUD COMPUTING
Harness the power of our suite of cloud management services to deliver real, measurable, and sustained improvements in your business performance.
DIGITAL TRANSFORMATION
Ajel is committed to accelerating digital transformation journeys by solving digital integration challenges that cover, Micro to Macro-level integrations of CMS, ERP, WMS, and TMS applications.
---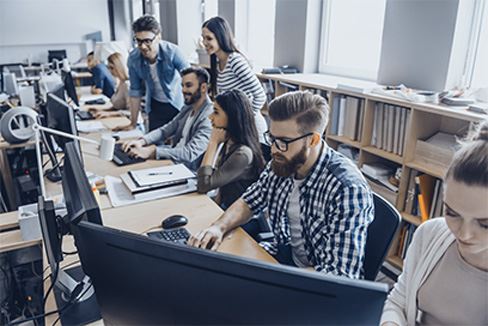 We deliver future-ready applications across mobile, web, desktop, and cloud by leveraging our technical prowess, solution accelerators, consulting capabilities, and deep domain knowledge.
We deliver high-quality, flexible applications that are easy to maintain; modular to facilitate enhancements and are reliable, secure and easy to deploy using the Global Delivery Model. It is based on industry standard process quality frameworks (CMMi, CMM, etc.) and uses rigorous methodologies and the expertise of our Centers of Excellence to mitigate risk and deliver cost and time-to-market benefits.
Using our unique methodologies that comprise cloud, agile principles, and DevOps best practices, we help our clients maximize ROIs on their application development projects while mitigating risks and enhancing benefits.
---
Custom Application Development is meant for designing a software that has been designed and programmed for a specific function/need. While all application development...
Recognizing the importance of log-term application support and maintenance to our customers businesses and processes, Ajel offers a complete range of offshore outsourcing services...
The business landscape is changing at a fast pace. To adapt to the new challenges, enterprises need to keep abreast with new technology developments as well.
If your enterprise maintains a host of disparate, distributed applications built with the technology-of-the-day and utilizing non-standard data storage methods, our Enterprise Application Integration (EAI) services...
Testing and automation is a crucial focus area for businesses looking to drive business value, improve standards and maximize productivity. From the figures above, it's clear to see many organizations have recognized...