Ajil-DEM Enable Your Business To Its Maximum Potential With Cloud Innovation
Dynamic Enterprise Management (DEM Suite2.0) is an IT consulting business management solution that provides growing and midsize organizations with complete and scalable financial and operational functionality, such as advanced Consultant Resource Management, robust business intelligence, rich reporting, Payroll, Human Resource Management System, Financials and SalesForce Automation. DEM Suite 2.0 is accessed irrespective of any geographical or language limitations. DEM Suite2.0 gives total control of consulting process from sourcing of the consultant to payroll generation to HRMS.
IT CONSULTING
We align business and systems technology to address your business challenges and create sustainable, competitive advantages for you. Through strategic and optimized application of technology and utilizing our global delivery model, we accelerate higher levels of productivity and quality for our clients.
CLOUD COMPUTING
Harness the power of our suite of cloud management services to deliver real, measurable, and sustained improvements in your business performance.
DIGITAL TRANSFORMATION
Ajel is committed to accelerating digital transformation journeys by solving digital integration challenges that cover, Micro to Macro-level integrations of CMS, ERP, WMS, and TMS applications.
---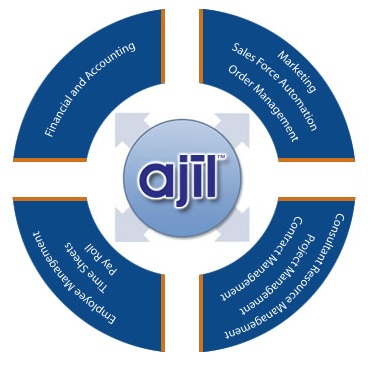 DEM Suite 2.0 is a bespoke ERP designed as a complete end to end recruitment system. DEM Suite2.0 offers the stability you require, so you know your solution will support your business-critical needs, today and in the future.
DEM Suite 2.0 Benefits:
• A Comprehensive Solution for Qualitative Consulting
• Faster time to recruit
• Ground-breaking user interface
• An inexpensive and better-quality solution
• Multilevel Administration
---
---
OUR SOLUTIONS
World-Class Solutions for your Business
Accounting & Invoice Management
Dem Suite2.0 financials meets global financial reporting and tax requirements with one accounting, tax, banking and payments model.
Cloud Management
Any authoritative person - your customers, vendors, partners or employees can create, view, edit, share, and control your documents safely and securely anytime and anywhere in the globe.