Enable Your Business To Its Maximum Potential With Cloud Innovation
Digital Transformation is inspiring new standards of business and growth. It is not just about incorporating new technology into a business; it's a seismic change, disrupting almost everything that forms enterprises. Existing products are reinvented, manual processes are swapped for automated models, and decision-making turns more precise with data. Digital Transformation, therefore, is far more than just a technology switch. It's about training people and changing processes to get more out of the most powerful tool in business.
Technologies such as Artificial Intelligence, cloud computing, the Internet of Things, and more are fundamentally changing businesses the world over. While it's natural to go gung-ho about emerging digital technologies, it's also essential to address the duality of adopting new digital offerings while re-structuring legacy systems or eliminating them altogether. This is exactly where a Digital Transformation Company can help.
IT CONSULTING
We align business and systems technology to address your business challenges and create sustainable, competitive advantages for you. Through strategic and optimized application of technology and utilizing our global delivery model, we accelerate higher levels of productivity and quality for our clients.
CLOUD COMPUTING
Harness the power of our suite of cloud management services to deliver real, measurable, and sustained improvements in your business performance.
DIGITAL TRANSFORMATION
Ajel is committed to accelerating digital transformation journeys by solving digital integration challenges that cover, Micro to Macro-level integrations of CMS, ERP, WMS, and TMS applications.
---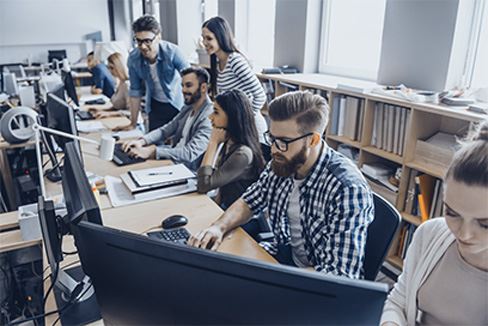 Ajel is an Enterprise Digital Business Transformation Company, helping enterprises transition seamlessly in the post-modern digital age while overcoming risks. We adhere to an innovative, scalable, and technology-agnostic approach that empowers our clients to remodel their IT and derive lasting business value.
Our Digital Transformation Strategy is drawn on a critical theme—optimizing legacy systems to scale fast with the new-age digital offerings and facilitate enterprises to reap the benefits of IT. Our experts analyze your IT landscape with thorough detail, think through every risk and challenge, and provide you with a strategic roadmap to extend digital capabilities. Doing so, we help you tap into the untold potential of your IT investments and accelerate value in terms of asset and cost optimization.
At Ajel, we help businesses with their digital transformation. Our experts continually ideate and prototype new concepts in our dedicated Center of Excellence with an aim to architect new models of disruption. We also help you build and deploy customized solutions that help you ride over business challenges and gain a competitive edge. We can do it for you too.
Ajel, a Trusted Digital Transformation Solutions and Consulting Services Company.
We delve into the vast pool of knowledge to build customized solutions that deliver accelerated change. Our team:
Performs careful analysis, diagnosis, and optimization to reimagine your IT landscape in order to ensure that it is consistent with the change
Ideates, incubates, and prototypes novel concepts to raise the bar of business innovation and deliver 'differentiated' growth to you
Builds innovative strategies and human-centric approaches to supercharge your digital transition
Simplifies the induction of new IT while extending your legacy, maximizing your IT bottom lines
Accelerates your digital journey by uncovering new paradigms
Empowers you with consulting solutions that help you expand, compete, and succeed
---
The field of Artificial Intelligence (AI) has made machines intelligent, self-reliant, and far more imaginative than people ever thought they could be. It is also an area that is continuously developing at breakneck speed. As such...
It is expected that there will be 44 billion devices being connected to the net by 2022. As more and more devices and people connect to each other through the Internet of Things, it's leading to the collection of truly massive sets...
Ajel's Enterprise Mobility Solutions team helps clients design, implement, and integrate focused mobility applications, while applying a proven implementation methodology that controls costs, meets project deadlines...
Robotic Process Automation (RPA) is changing the face of business. RPA is completely overhauling the way we scrutinize processes, monitor remote infrastructure and perform backend tasks and functions. It's changing...
The term 'Internet of Things' (IoT) is an ever-growing web of smartly connected devices, buildings, vehicles, systems, actuators and network connections. Each contains intelligent software and sensors. This allows...
While the phrase if often overused, it's still an understatement to say that Blockchain is the most disruptive invention since the arrival of the internet itself. One of the most sought-after areas of expertise Ajel offer...