Enable Your Business To Its Maximum Potential With Cloud Innovation
Delivering Connected Digital Experiences for the Evolving Consumer Economy.
As systems and applications continue to build up, IT ecosystems become heterogeneous and complex. Reason. Enterprises have adopted new technology both quickly and completely, however, in the rush, the leaders have failed to notice the vulnerability—silos across applications, data, and processes. As a result, the new systems are functioning as standalones, which is resulting in a lack of 360-degree view of the business for customers, partners, and employees.
The clarion call, therefore, is connecting systems and applications over a unified service platform and enabling new, synchronized models of collaboration and efficiency. This is exactly where Digital Integration takes hold. By conjoining systems, processes, and data across the enterprise, Digital Integration facilitates unparalleled efficiency, innovation at speed, and connected digital experiences for customers. It eliminates bottlenecks to supply chain visibility and enables a consolidated, end-to-end view for intelligent planning and resource allocation. If you want to orchestrate your next competitive shift to the integrated digital, we'd be delighted to help you do just that.
IT CONSULTING
We align business and systems technology to address your business challenges and create sustainable, competitive advantages for you. Through strategic and optimized application of technology and utilizing our global delivery model, we accelerate higher levels of productivity and quality for our clients.
CLOUD COMPUTING
Harness the power of our suite of cloud management services to deliver real, measurable, and sustained improvements in your business performance.
DIGITAL TRANSFORMATION
Ajel is committed to accelerating digital transformation journeys by solving digital integration challenges that cover, Micro to Macro-level integrations of CMS, ERP, WMS, and TMS applications.
---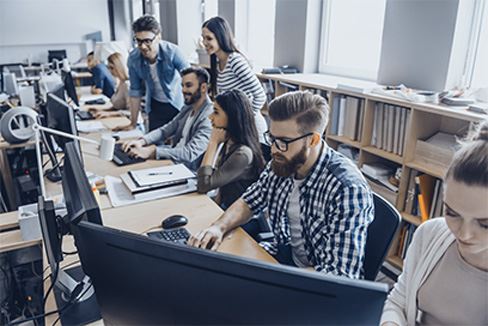 Digital Integration solutions and services by Ajel are tailored to help enterprises grow sustainably and lead in the age of experience-driven economy. Our integration strategy, crafted in consultation with our seasoned experts and global thought leaders, is strongly focused on bridging gaps between your IT processes, data, systems, and applications. From strategy, implementation to testing and support, our experts have the proficiency to provide digital integration services and deliver efficiency gains across short, medium, and long-term business horizons.
Ajel is committed to accelerating digital transformation journeys by solving digital integration challenges that cover:
Micro to Macro-level integrations of CMS, ERP, WMS, and TMS applications
Moving Service-Oriented Architectures (SOAs) to API-centric architectures
Legacy EDI integrations across all formats
Migrations to B2B cloud platforms that support Agile DevOps-CI/CD and APIs
Full-scale integrations of Business Process Management (BPM) and Enterprise Service Bus (ESB) using cutting-edge, proprietary technologies
Middleware-based platform integrations
MFT, Analytics, AI, IoT, iPaaS, Robotic Process Automation (RPA), Blockchain, and more.
Aiming to pivot enterprises towards a connected future, Ajel uses innovative technologies, cutting-edge frameworks, components, processes, and proven practices that ensure faster and more secure implementation. If you're looking to inspire new integrated behaviors across your enterprise and manage your digital forces at a velocity never imagined before, connect with our DI experts today.
Using our unique methodologies that comprise cloud, agile principles, and DevOps best practices, we help our clients maximize ROIs on their application development projects while mitigating risks and enhancing benefits.
As one of the leading digital integration solutions providers, we help clients in the following ways:
Right from consultation, advisory to deployment and support, we offer end-to-end digital integration solutions and services
In partnership with renowned companies such as IBM, Software AG, SAP, MuleSoft, and more, we offer industry-grade, custom integration solutions and enable agile responsiveness to changing markets
Our engagement models—short-term, project-based, fixed cost, and time and material—are designed to offer optimum convenience to clients, as well as, help them save time and costs
Our experts use industry-grade business practices to modernize existing IT systems and build digital strategies for the future using the latest advances in technology
We deliver comprehensive, out-of-the-box Digital Integration solutions which can be deployed either on-premises or in the cloud in comparatively less time.
---
Ajel has cutting-edge specialization to align API strategies with your broader technical and business objectives and encourage a mindset that leads to participation in the API-based economy. If you're seeking to dominate...
Company objectives, organizational culture and technological assets are all key elements of corporate success. However, none of them matter unless they are all strategically integrated, synchronized and aligned...
It's the nature of fast-moving business and ever-evolving customer expectations that every company will have workflow issues of some sort, at some stage. However, not every business is able to identify them. Worse still...
When it comes to digital transformation, AI, machine learning and the Internet of Things are grabbing all the headlines. They are seen as the main growth drivers over the next decade. However, many companies...
One of the best skills any company can have is the ability to discover problems and fix them before they can negatively affect business. As they say, prevention is better than cure. It's more cost-effective as well...