Enable Your Business To Its Maximum Potential With Cloud Innovation
Enterprise solutions are software applications that allow people to access and manage real-time information and transaction processes across an entire organization. Our enterprise solutions help our clients achieve high performance.
Transaction Processing and Decision Support Systems form the backbone of Operations and Analysis. To maintain and improve their competitive advantage to deliver better value to the customers, enterprises invest substantial capital and effort in setting up these systems.
At Ajel, our team works beyond the 'lift-and-shift' approach to unlock value trapped in legacy systems. We deliver operational efficiency by re-architecting, standardizing, rationalizing, de-risking, and re-scaling your systems and apps, making you well-positioned to tackle future challenges head-on.
IT CONSULTING
We align business and systems technology to address your business challenges and create sustainable, competitive advantages for you. Through strategic and optimized application of technology and utilizing our global delivery model, we accelerate higher levels of productivity and quality for our clients.
CLOUD COMPUTING
Harness the power of our suite of cloud management services to deliver real, measurable, and sustained improvements in your business performance.
DIGITAL TRANSFORMATION
Ajel is committed to accelerating digital transformation journeys by solving digital integration challenges that cover, Micro to Macro-level integrations of CMS, ERP, WMS, and TMS applications.
---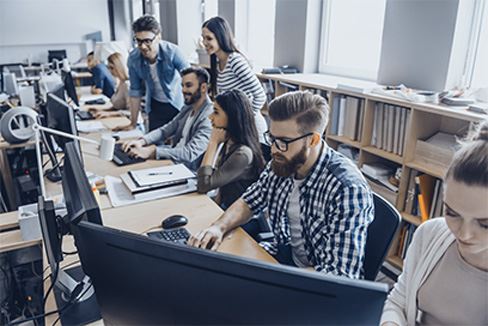 According to research done by analysts, Enterprise Resource Planning (ERP) is not being used as widely as it should be. From an enterprise's viewpoint, the key objective of making investments in Packaged Applications is to derive business benefits and advantages.
We deliver high-quality, flexible applications that are easy to maintain; modular to facilitate enhancements and are reliable, secure and easy to deploy using the Global Delivery Model. It is based on industry standard process quality frameworks (CMMi, CMM, etc.) and uses rigorous methodologies and the expertise of our Centers of Excellence to mitigate risk and deliver cost and time-to-market benefits.
Using our unique methodologies that comprise cloud, agile principles, and DevOps best practices, we help our clients maximize ROIs on their application development projects while mitigating risks and enhancing benefits.
---